In a previous article, we discussed the different ways in which people use money productively. Spending is one of the most important ways most people use money and the main reason why money is earned. Milton Friedman, a famous economist and author of "Free to Choose", granted an interview where he outlined 4 broad ways to spend money.
People usually make different spending decisions depending on which of the 4 ways they spend money as outlined below:

I. You spend your own money on yourself: You are usually careful to spend the least and demand the most value for your money when you spend your own money on yourself.
II. You spend your own money on someone else: For example, you buy a birthday present for a friend. In this instance,  we are not so careful about the content of the gift but we are very careful about the cost.
III. You spend someone else's money on yourself: We pour more milk into our tea when our parents bought the milk. We download heavy videos using parents or company Wi-Fi. Compare that to when we started paying for our own milk and internet data. If I spend somebody else's money on myself, then I am likely going to have a good lunch!
IV. You spend someone else's money on someone else: If I spend somebody else's money on another person, I am not concerned about how much the item costs or even not concerned about what I get.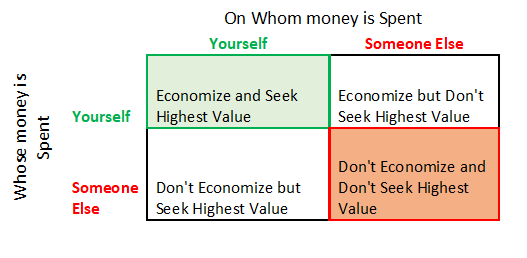 My takeaway here is to learn to economise and seek the best value whether spending your own money or someone else's money. We turn to acquire habits by repeatedly doing things and so if you learn to live large by using your employer's money for a long time, you might acquire a lifestyle habit that will be difficult to shirk when you are no longer in active employment.
Milton thinks the best value is derived from quadrant #1, when people spend their own money on themselves. Do you agree? Let me know what you think. Sign up for Axis Pension Plan or Provident Fund.
---
Axis Pension Trust partners workers throughout their retirement planning journey to ensure they are on track to achieve a dignified retirement. For more information on our services or general enquiries, send an email to This email address is being protected from spambots. You need JavaScript enabled to view it. or call 030 273 8555.